Commercial Fire Damage Services
1/18/2018 (Permalink)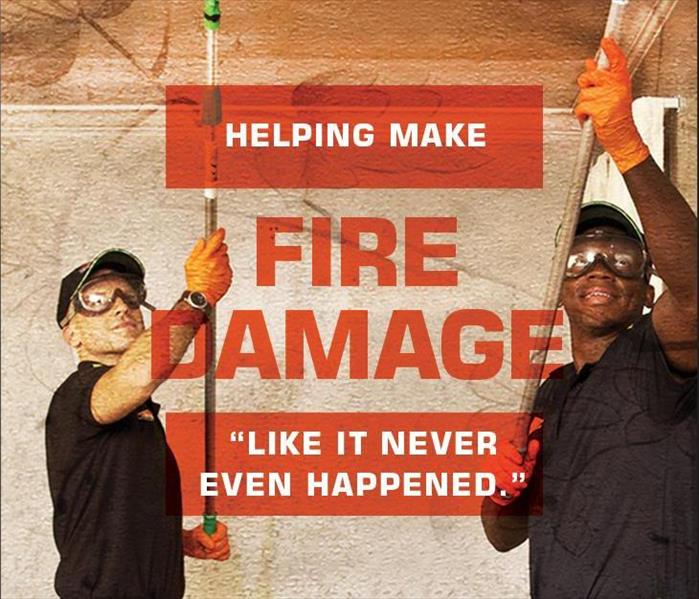 Commercial Fire Damage Services
When your business suffers fire damage, you need to know what next steps to take to begin the cleanup and restoration process as soon as possible. Business interruptions are expensive. SERVPRO of Ellis County has been helping businesses open their doors after disaster for over 30-years. We offer the following fire damage services:
Roof Tarping: we will install a thick, weatherproof tarp over the damaged portions of your roof to prevent precipitation from coming in and causing secondary damage.
Board Up: we will install temporary boards over damaged doors and windows to prevent precipitation from coming in and to deter possible break-ins.
Temporary Fencing: we will install a temporary fence around the perimeter of your property to deter the public from entering sensitive areas.
24-Hour Security: if a board up can't take place for any weather-related reason, we will install a security guard for your property until our crews can safely install them.
Water Damage: a water damage occurs at most fires due to firefighting efforts. Standing water can cause secondary damage to your structure. We will extract all standing water to prevent further damage.
Structural Cleaning & Deodorization: after the building is secure, we will begin the process of cleaning and deodorizing your property. Permanently damaged debris will be removed and all soot and smoke odor will be removed.
Contents & Textile Cleaning: soot and smoke-affected contents and textiles can be cleaned and deodorized.
Move-Out / Move-Back: if any contents need to be cleaned and deodorized and your structure is still not safe, we will transport the items back to our cleaning facility and then move them back.
Storage Space: should your contents need temporary storage space, they will be stored in our warehouse until your property is safe again.
Reconstruction: any structure that was permanently damaged removed can be replaced.
3 Expert Contact Team: you will be assigned 3 different people that will be your main points of contact throughout your entire process. These individuals will be responsible for communication with insurance, cleaning and remediation, and reconstruction.
Emergency READY Plan (ERP)
The SERVPRO Emergency READY Plan is pre-planning for the cleanup and restoration of your business before a disaster even happens. We understand that business disruptions are expensive, and nearly half of U.S. businesses close due to a disaster. Every minute counts. A READY plan helps makes the cleanup and restoration process faster by letting us know things such as the size of your rooms, type of flooring, etcetera.
We recommend completing a READY plan soon. Give us a call and we'll schedule a team member to visit your property and prepare a plan for you at no cost. Or, you can fill out a plan yourself at SERVPRO's Ready Plan website. Make sure to list SERVPRO of Ellis County as your preferred franchise.
SERVPRO of Ellis County has over 30-years of experience remediating water, fire, and mold damage. We are also a Texas Licensed Mold Contractor servicing Waxahachie, Ennis, and all other communities in Ellis County plus those surrounding Dallas and Ft. Worth. We can be reached 24/7 at (972) 935-0827.
Follow us:
Facebook Twitter Instagram Google+
"Like it never even happened." only happens here.